The Crock-Pot SCCPVL610-S 6-Quart Programmable Cook and Carry Oval Slow Cooker is yet another model from the manufacturer that has been dominating a sizable portion of the industry for a while now. While its greatest appeal stems from its absolute perfect size for average-sized families, there are some additional mouth-watering features that we will touch upon that has put this model in the discussion for the best programmable slow cooker.
It is a well-known fact of life that it is difficult to get quality food (especially slow cooked food) on the road. However, the Crock-Pot SCCPVL610-S Oval Slow Cooker is the ultimate source for providing freshly cooked food even when you're on the move. This is made possible by the locking gasket lid that not only helps preserve your food for up to 6 hours, but it also prevents any type of mess that a normal slow cooker would create on a long trip.
With a massive 6-quart capacity meant to allow you to proudly serve your entire family, the SCCPVL610-S is the perfect pot to bring along if you're planning a picnic or family get together.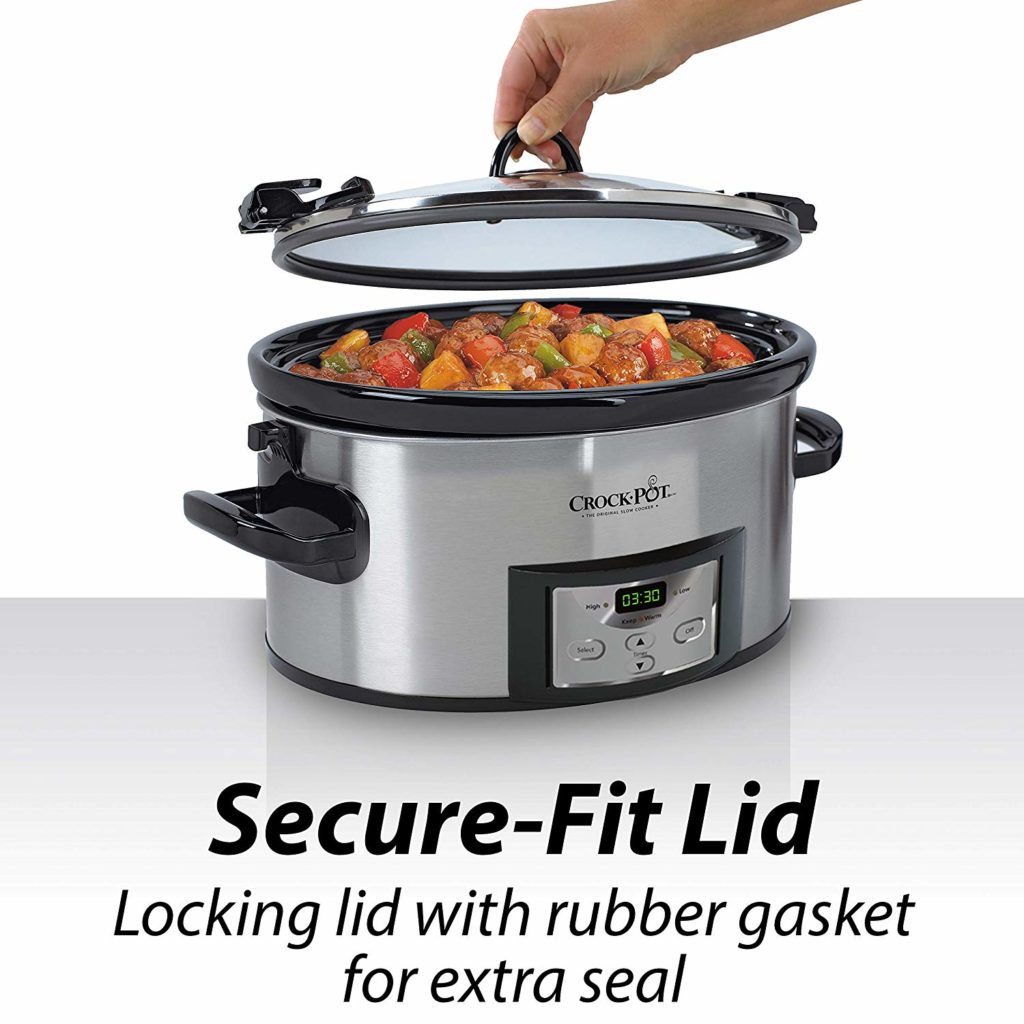 Convenience is another feature that this particular this slow cooker excels in. Convenience is quite hard to ignore when you consider this crock pot just requires 3 simple steps to follow and your food will be ready to be served. The presence of a stoneware cooking pot, heating base, and a digital timer ensure that even the most technologically-challenged individuals will be able to enjoy this slow cooker.
All you have to do is simply put the stoneware on the heating base, add all the desired ingredients, carefully cover the lid, and plug your slow cooker to the power source. After that, simply choose the appropriate temperature and time from the menu, and your recipe cooks itself. No need to follow up or hover because as the cooker switches to warm mode as soon as the cooking process is complete.
This slow cooker is also multi-functional and very easy-to-program. The SCCPVL619-S Slow Cooker can cook quickly within 30 minutes, or you can program it for up to 20 hours if your recipe truly requires that slow cook touch. Temperature can be adjusted to high and low, that combines well with the timer option. It's that simple!
Overall, this Crock-Pot is affordable and powerful. Considering the 240 watt DC motor that operates at 120V, you're getting a really powerful slow cooker. Add in the 1-year limited warranty accompanying the product, and you'll be making a secure purchase on an amazing slow cooker at a price that more than fits the buy.