Cuisinart MSC-600 3-in-1 Cook Central 6-Quart Multi-Cookeris arguably the best slow cooker around, although it's quite expensive compared to other 6-quart models in the market it's cost comes with a reason. It's state of the art features make it easily desirable, whether within your budget or not!
In terms of its manufacturing, the MSC-600 3-in-1 Multi-Cooker has a stainless steel exterior with a control panel complete with its functions and LCD display at its front. The removable cooking pot is made of non-stick aluminum—unlike the ceramic-based pot is usually accompanying other models.
The cool-touch glass lid stays fixed on top at all times while keeping the food covered and safe. Removing the lid can also be accomplished safely thanks to cool-touch handles on either side. The Cuisinart MSC-600 has a wider construction than other models and, as a result, the product weighs 3-4 pounds more than an ordinary slow cooker. All the components and internal parts, including the steaming rack, are removable and can be cleaned effortlessly. You'll also get a 3-year warranty on parts with the purchase of this slow cooker.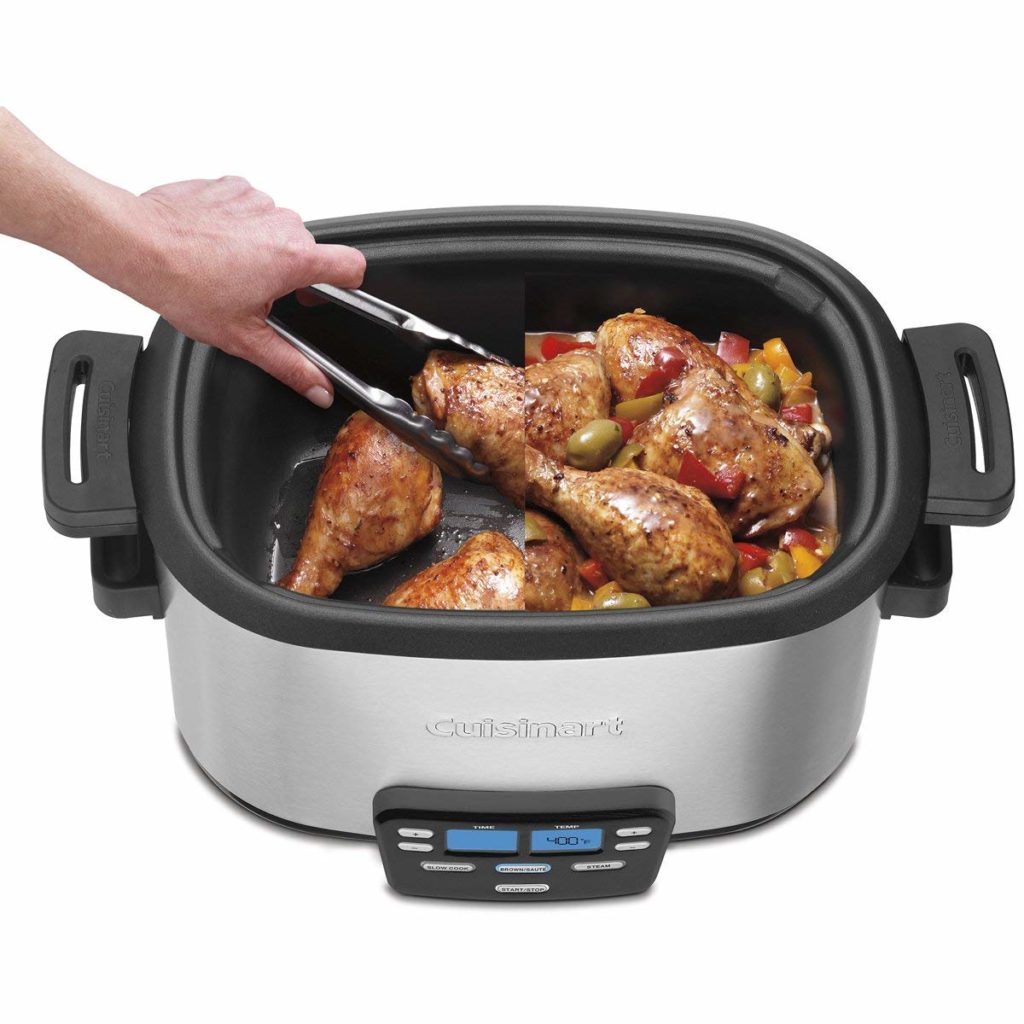 Apart from the basic slow cooking function, the MSC-600 offers two more features: you can sauté the veggies and brown meat before you switch to slow cooking. There is a Cook Central mode that allows you to steam your vegetables and other items, like stuffed artichokes. Have a sweet tooth? The Cook Central is also capable of preparing desserts!
In terms of the actual slow cooking process, Cuisinart MSC-600 offers all functions that you have seen marketed in any digital slow cooker. It automatically shifts to "Keep Warm" feature as soon as the food is cooked, or your meat reaches your pre-set optimum temperature.
You can set the cooking time up to 24 hours, but should you be working with a shorter time frame, this cooker can also cook your food in about 30 minutes depending on the specific foods involved. Choose the appropriate temperature from three available settings; high, simmer, and low. This model, the best programmable slow cooker, can reach up to 400°F.
As far as the longevity goes, the MSC-600 is quite durable and meant for the long haul. All the parts are BPA free, so you won't need to worry about toxins, cleanliness, and chemicals. The digital controls and functionality only add to this model's allure, and make it a near must-buy! As mentioned, the Cuisinart MSC-600 3-in-1 Multi-Cooker offers a 3-year limited warranty which only further secures your purchase. In short, if you can stretch your budget, you should go for this amazing slow cooker as it stands out above the rest in a variety of areas.