With slow cookers we tend to associate the phrase, "Setting and Forgetting " and the Hamilton Beach Set 'n Forget 6-Quart Programmable Slow Cooker With Temperature Probe (33969A) is a prime example of this phrase to perfection. To start with, the Hamilton Beach 33969A Slow Cooker offers you three choices for automatic cooking.
The "Program" option enables you to simply set the desired cooking time for the recipe. As soon as the cooking time is up, the slow cooker automatically converts to "Keep Warm" mode to preserve the taste and temperature of the food.
"Probe" mode allows you to prepare large cuts of meat—such as chicken, roast or lamb. Simply insert the probe and adjust the meat temperature to the desired level. The 33969A Set & Forget Slow Cooker will make sure that the meat attains the desired temperature, and then shifts automatically to the keep warm mode. The slow cooker keeps you updated throughout its cook process with the current temperature, through LED display, on the control panel.
For traditional cooking, the Hamilton Beach Set & Forget Slow Cooker offers manual controls. This feature allows you to cook your food at high, moderate, or low temperatures for as long as you want. There is no need to adjust the cooking time in this mode.
Other than the temperature controls and overall convenience, the Hamilton Beach 33969A Slow Cooker offers a range of other amenities as well.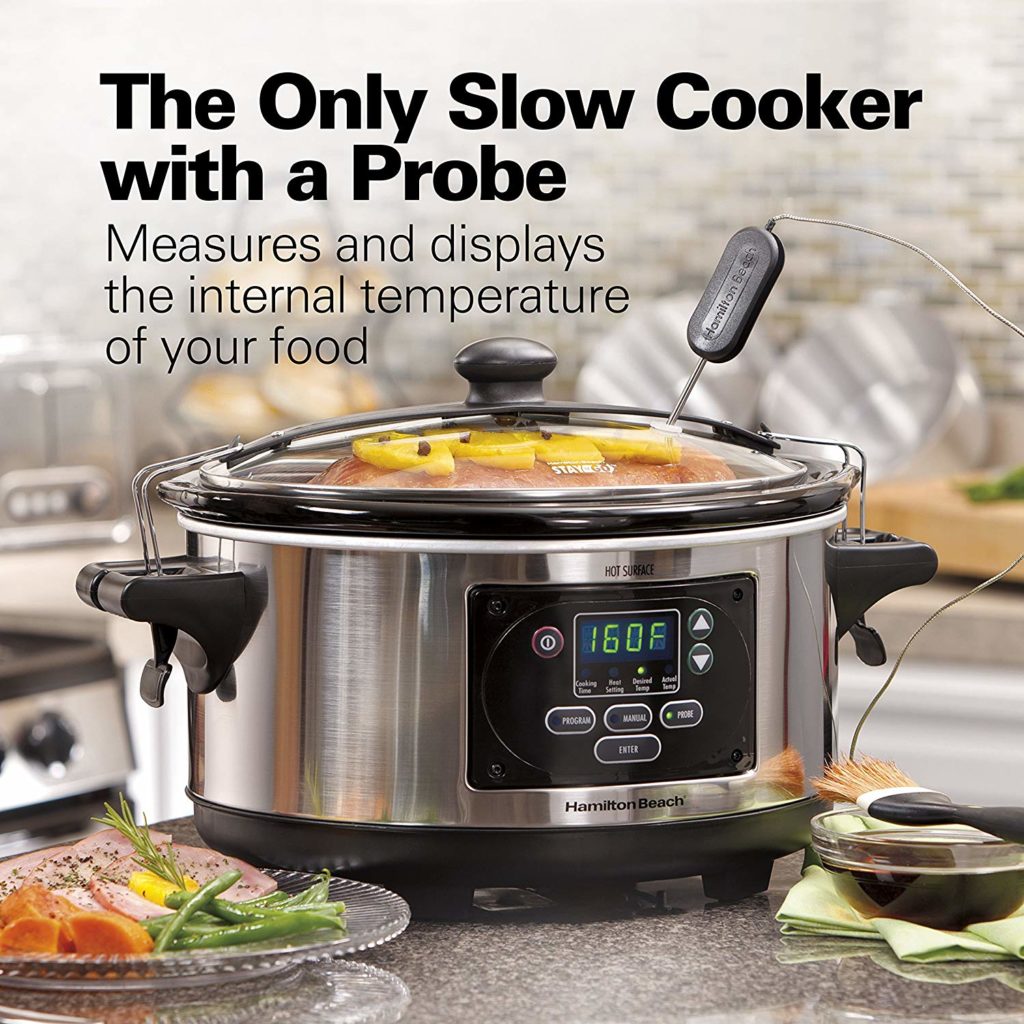 For instance, there's the aforementioned thermometer probe that updates you with current internal temperature via the LED display on the control panel. The slow cooker is perfect for on-the-road meals as its clip-tight gasket lid prevents the food from messing up, spilling, or shifting position drastically.
Serving family members won't be a trouble anymore either since the Hamilton Beach 33969A Slow Cooker can prepare a meal for up to 7 adults at a time. When you combine overall capacity with the cooking time variance (30 minutes – 20 hours), it is simple to understand why this slow cooker is so highly regarded.
This slow cooker weighs 13.9 pounds, but the full-grip handles at each side assist greatly in picking up and carrying the cooker with ease. With a powerful motor, spacious design, durable construction, and a 1-year warranty, the Hamilton Beach Set & Forget Slow Cooker is an undeniable steal for its price range.